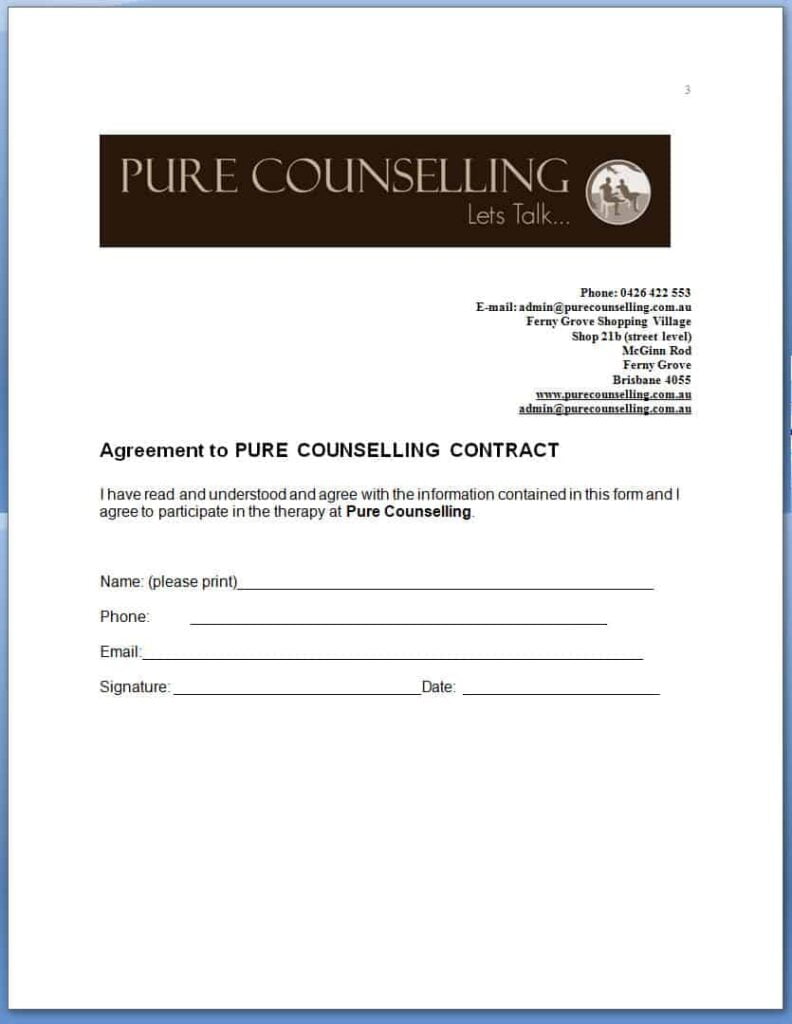 PURE COUNSELLING CONTRACT
Welcome to Pure Counselling
This document contains important information about the clinic. Please read it carefully and note any questions you might have. These can be discussed at your scheduled appointment. Signing this document will represent an agreement between you and your counsellor.Please print off the signed contract and bring it to the first session.
THE FIRST SESSION
You can expect a relaxing environment at Pure Counselling. The counselling session is about you and what you want to discuss or disclose. It is important that you turn up ten minutes before the session so as you can sit and give yourself time to quieten and relax.
WHO CAN BE COUNSELLED
Those who are three years and upwards can be counselled atPure Counselling.
Under law children must have signed parental authority.
At Pure Counselling you are in charge of working with your counsellor in a collaborative way towards agreed goals. After the sessions you may feel tired. This is very normal as you are possibly discussing emotional areas of your life which are intensive.
PAYMENTS
Payments are expected on the day of the appointment. An invoice will be sent to your email address.
Costs for Pure Counselling have been made affordable for you.
APPOINTMENTS
All appointments are scheduled and not on a walk-in basis. It is most important to maintain regular sessions, whether it is once a month or once a week.
If you cancel 12 hours before the session a full session fee will be charged unless there are extenuating situations. The counsellor will decide if it is an extenuating situation.
If you do not attend the booked session, full session fee will be charged.
ENDING YOUR SESSIONS
When you feel ready to end your sessions at Pure Counselling please discuss this with your counsellor. It is important to have closure rather than just not return both for you and your counsellor.
CONFIDENTIALITY
The privacy of all communication between you and your counsellor is protected by law. Your counsellor may take notes throughout the session. These will then be professional records for the purpose of references for the counsellor.
Any information can only be disclosed to others by law if;
If a client is threatening serious bodily harm to another or themselves or under the threat of being seriously harmed.
Under a legally binding court order to disclose the notes, give a testimony or deposition.
When the counsellor is seeking professional advice from a mental health professional supervisor. Names are not usually revealed in these cases.
EMERGENCY
If you are experiencing a crisis, then you can call on 0426 422 553. Usually an appointment can be made within 24 hours. If you need immediate attention, please go to a medical clinic within your area or call lifeline.
METHODS OF COUNSELLING
If you would like counselling on the phone or Skype, the current fee will be charged. The time of the phone/ Skype session must be agreed on between counsellor and client. Payment must be made the day of the session.